Bringing you the future of health, wellness & recovery
Helping you reach your health potential with industry leading wellness treatments.
Aqua-Tox is a one of a kind health & wellness clinic in Hertford.
We pride ourselves on investing in only the best technology in order to provide the safest and most effective treatments to our clients.
We are proud to support our clients with their health and wellbeing and help them to feel more confident in their own skin. Our therapists are highly trained and are all specialists in their fields ensuring that you get the very best treatment and results.
Save 10% on Laser Hair Removal
Winter is the best time to get started with laser hair removal so this month we're helping you save on our most popular whole body laser hair removal packages. 
Start your laser hair removal journey now and get ready for summer 2024!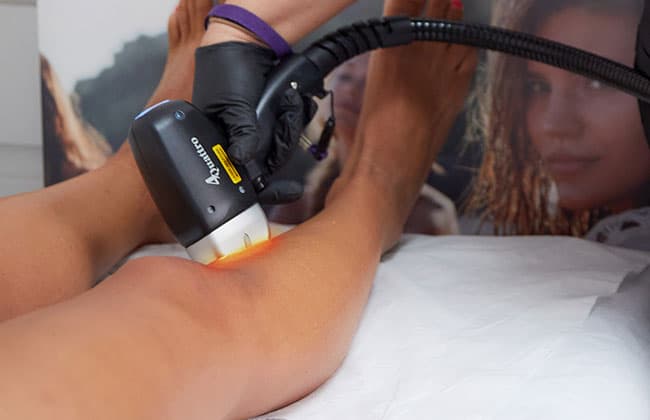 What can you expect at Aqua-Tox?
The best clinic in Hertfordshire. I've had a range of treatments here from aesthetics with the lovely Lucy to colonics with Natalie - who is just amazing. After being fobbed off with laxatives for years, having a colonic detox here was the best decision I've made. They offer such a great range of treatments. The ladies make you feel as ease from the moment you arrive. The clinic it's self is immaculately clean and relaxing and not intimidating like some other big chains. The support, advice and after care is very professional. Some procedures are a big decision and I trust these ladies 100% I wouldn't go anywhere else.
I had laser treatment for my rosacea and it is like a miracle! My skin has never looked this good and it has really helped with my confidence. The ladies in clinic are so knowledgeable and kind, I can't recommend Aqua Tox enough!
I'm so so happy that Aqua-Tox was recommended to me. I have just finished my course of 6 treatments of laser hair removal and can't believe the incredible results. It's amazing! Natalie is so warm and friendly. She makes you feel instantly at ease. I'm always looking forward to my sessions! I can't thank Natalie and the Aqua-Tox team enough. 100% recommend.
I have been to Aqua-tox a number of times now. I have used the cryotherapy chamber each time. The reason I went was that I suffer will very painful knees and hip pain, getting old is no fun! cryotherapy was recommeded to me by a friend who said it helps with the swelling and inflammation around the joints. All I can say is this has helped me immensely. After each session , my knee's and hip are pain free for at least at week. As for the clinic, it is perfect. The facility is immaculate , the staff are unbelievably helpful, if , like me, you are on of those people who ask loads of questions, the staff are only too happy to talk through your treatment and cant do enough for you. It was a real find for me and will be going back as often as I can!
I recently had a consultation and patch test to prepare for having the Soprano Titanium laser hair removal. It was my first time visiting Aqua-Tox and the girls were so lovely and helpful all the way from me enquiring, booking and during my appointment. They are lovely and so welcoming. Cannot wait to have my first treatment.
Lucy is very professional and the salon has a great friendly feel. Loved how Lucy explained everything beforehand and I knew 100% I was in safe hands. I'm so pleased with my results and absolutely recommend the girls at Aqua-Tox. I'll be back soon!
I started Soprano laser hair removal on my chest last month and just had my second session. I can already see such a difference about 50% of the hair has gone. Natasha was great at explaining the treatment and made me feel at ease as soon as I walked in. Already thinking of getting some others done too.
Natalie at Aqua-Tox is so lovely. I've had my underarms done and I've had amazing results I would recommend them to anyone looking for laser hair removal! Easy to find and loads of parking. 5 star service and results.
I have just had my 3rd Lipofirm treatment with Natalie and I cannot believe the difference after so few treatments. My mum tum didn't look it's best after a C section almost 4 years ago - I had considered a mini tummy tuck and Lipofirm was my last chance saloon. Thank god I didn't go down the invasive route as I am so pleased with my results that I even wore a normal bikini on holiday. Can't wait to see how much better I can look with a few more treatments. Thank you so much!
I cannot thank Natalie and Aqua-Tox enough. I've had laser hair removal elsewhere, but the treatment I've experienced at Aqua-Tox is far superior. Natalie is incredibly knowledgeable and really knows hair and skin. She spends extra time on stubborn areas and really cares about me getting results! She is so meticulous as a therapist and I feel so valued as a customer. I'm only on my second treatment but I've already had noticeable results. I've bought a course of 6 treatments based on my initial experience at this clinic.
I have had a Lipofirm session and Colon Hydrotherapy and have to say I've had a great experience. Both Natalie E and Natalie T are so polite, welcoming and friendly. They make you feel calm and at ease. A really friendly place and would definitely recommend. I have more sessions booked in.
100% happy with the treatment and professionalism that I always receive from Natalie. Back for my second round of Lipofirm, and will not be going anywhere else from now on. Great, warm friendly service, highly recommended.
Chose to visit Aqua-Tox to help kickstart a general improvement in health regime. Had a small bit of apprehension but the clinic and Natalie took all that away. A great experience which I would absolutely recommend!
I have tried several beauty salons in Hertford and Aqua-Tox is by far my favourite. Natalie, Lucy and the team are excellent. I would not go anywhere else for my facials or colonics. Their treatments are cutting edge and their prices great. If I was to move away, I would be back to Aqua-Tox in a heartbeat.
I cannot say one bad word about this company, they have the best staff and the best equipment. I used to shave my underarms every single day but now (Thanks to Natasha) I barely have to shave every two weeks!
I have visited Aqua-Tox on many occasions and had several different treatments. I have had treatments by 3 out of the 5 girls and I cannot speak more highly about them. Lovely, genuine girls who put me at ease and made me feel relaxed. The clinic itself has always been very clean and therapeutic. I cannot wait to return next week for my 6th laser session. I would highly recommend this clinic.